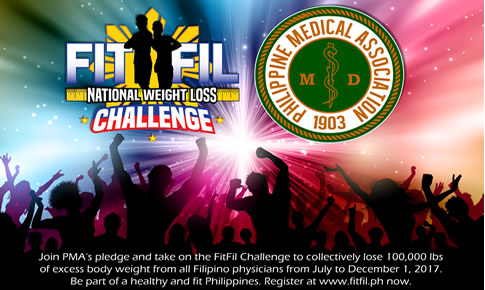 As the increase in obesity in the country becomes a growing problem, we strive to find ways to curb the problem and bring our people to better health. Philippines is among the developing countries with a high level of obesity. One in four Filipinos is overweight. Three out of 10 are obese. Overweight rate in Filipino children has nearly doubled from 2.7% (1 in 40) to 5.5% (1 in 20).
With these facts, it is good that there are good people who take active part in promoting and educating people about good health and help address the obesity problem. Weight control is an important part of attaining good health.
The Philippine Medical Association is posed to be a front runner in the campaign against obesity. The Fit Fil (Fit Filipinos) Challenge, led by Fitness Coaches Jim and Toni Saret, is the country's first ever nationwide weight loss challenge to get the whole country to "donate (lose)" 1,000,000 lbs. your weight lost in lbs. so you can get on your path to better health! You donate lbs. of lost weight, not material or financial donation.
As physicians, we strive to be a reflection of good health and well-being to our patients and the
community. Join and be part of a healthy and fit Philippinesl You only have excess weight to lose anc
all the benefits of good health to gain' Start a healthy journey now.