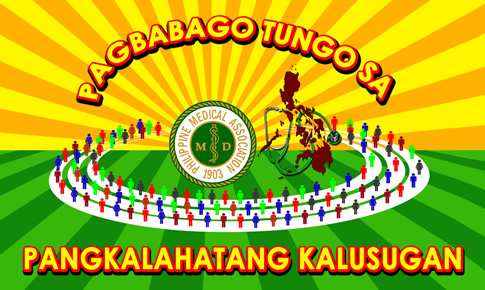 The Philippine Medical Association recently concluded its 110th Annual Convention and Scientific Meetings held at the historic Manila Hotel last May 16-19 , 2017. The theme of the convention was "Pagbabago Tungo sa Pangkalahatang Kalusugan". The activities began with the Welcome Reception held at the Maynila Ballroom. The activity was hosted by the Pasig City Medical Society.
The Opening Ceremonies was a beautiful tradition that presented the different leaders of the component societies, specialty divisions and subspecialties and affiliate societies . The Keynote Speaker, the WHO Regional Director for the Asia Pacific, was ably represented by Dr. Benjamin Lane, Coordinator for Health System and Services Team. The Commission on Continuing Professional Development had meticulously prepared the scientific sessions that were well attended. A record total of 3,200 members had attended this annual convention. It is also expected that this number may double for the next annual convention.
An innovation of this scientific activity was the monitoring of the attendance using the bar codes on the delegate's identification pass or by swiping their latest PMA membership card. The evening was capped by the Fellowship Night that was hosted by the Laguna Medical Society. Presentation numbers from the different medical societies always gave a rise in excitement to the affair.
On the 3rd day of the convention, the General Assembly attended by the presidents of the component medical societies and specialty divisions were was held the Centennial Hall.
On the last day of the convention, we had the Dr. Jose Rizal Awards celebration. The awardees were the following : Dr. Rebecca Deduyo (Clinical Practice); Dr. Kadil Sinolinding Jr. (Community Service) ; Dr. Maria Minerva Calimag (Academe) ; Dr. Jericho Thaddeus Luna (Research) and Dr. Alberto Herrera ( Government Service ). The Awarding Ceremonies were also held in the afternoon . This was to recognize the leadership of medical societies with the Icasiano Awards. Other special awards were given. The Closing Ceremonies was hosted by the Marikina Valley Medical Society led by Dr. Nimfa Baria. The Keynote Speaker and Inducting Officer was Atty. Teofilo Pilando Jr. We are looking forward to next year's convention to be held in Manila.